Stanley Greaves was the Pilot onboard Halifax L9512 TL-U on July 24th 1941, here he recalls how 40 years later the crew made their.......

Return to Linton-on-Ouse 24th July 1981
The crew of Halifax L9512 TL-U 'Uncle' were prisoners-of-war in various camps in Germany, Poland and East Prussia for almost four years. The wounded each made a full and complete recovery, although the rear gunner, Sgt 'Gilly' Gillbanks - the most severely injured - spent several months in German hospitals and did not catch up with the rest of us for a considerable time.

Being a POW is an experience most certainly not to be recommended. To quote the late Winston Churchill, who was a prisoner of the Boers as a young man - "The hours crawl by like paralysed centipedes". I was lucky to escape from a forced march on the 9th April 1945. I was recaptured three times, managed to get away each time, and saw my first British Tank on the 16th April. I arrived back in England on the 21st April 1945, and as the war ended on the 8th May, you might well think that it was hardly worth the trouble!

After being demobed I returned to my pre-war job in Insurance and tried to concentrate on becoming a civilian.

Being shot down and taken prisoner is a rather traumatic experience, and from time to time over the years my mind would relive the events of the 24th July 1941. I resented having been deprived of my freedom and prevented by the enemy from returning to base. Like many other members of aircrew I was possessed of an illusion known as the 'It can't happen to me' syndrome, and had been proved wrong in the most devastating way. I suppose the rest of the crew would have similar thoughts from time to time, and like me would realise that we had been extremely fortunate to survive, particularly so when, at the time of the Scharnhorst raid, the average length of life from joining an operational Squadron and being either dead or a POW was three weeks! The ratio of living to dead was reckoned to be one in seven! The fact that all seven of us had survived never ceased to amaze me.

In the winter of 1969, having previously resumed flying light aircraft for pleasure, I decided to enrol for a Flying Instructor's Course, and in July 1970 commenced teaching aspiring aviators to fly, as a part-time instructor with the Yorkshire Aeroplane Club at Leeds/Bradford Airport.

I thought often of my crew and wondered how they were getting along, but we had lost touch since the war ended. The first to 'surface' was Albert 'Bert' Henery who somehow traced me and told me about the story he had written entitled 'Operation Scharnhorst' which was published in the Linton-on-Ouse Station Magazine. This extract formed part of a much longer story he hoped to have published. I visited his home in Hartlepool, met his family, and spent quite some time reading through his manuscript. It was wonderful to see him again.

I had become a member of the RAF Ex-POW Association and at one of the London functions I had the great pleasure of again meeting my Flight Engineer, Gordon 'Oggie' Ogden. A great character, this man, who started his service career as a Halton Boy Apprentice and continued as a Regular in the Royal Air Force after the war.

During a visit to London in the mid-seventies I spent some time in the Public Records Office at Kew, and in the Archives was able to read the full record of the Scharnhorst raid Intelligence Reports and details extracted from No.35 Squadron's Operation Record Book. I was delighted to discover our bombs had damaged the Scharnhorst to such an extent that the stern of the heavily armoured vessel had been flooded with several thousand tons of sea water. Back at Brest, the crippled ship had taken four months to repair, and never returned to the North Atlantic Run where it had been such a menace to Allied Shipping.

It was after this visit to the Records Office that I thought how wonderful (for me) it would be if, providing they were all alive, I could trace my entire crew and fly them back to base at Linton-on-Ouse. An ideal date would, of course, be the fortieth anniversary of our attack on the Scharnhorst, and this would be the 24th July 1981.

The first thing to do was to sound out whether or not this would be possible. No.35 Squadron was now based at RAF Scampton flying Vulcans, so in November 1979 I drove down from Yorkshire and presented myself at the Guard Room! I would say the plans for our unique re-union started there.

During the next nineteen months I spent more time at the Records Office, again visited Scampton, and finally, in June 1981 concluded my travels with a meeting at RAF Strike Command, High Wycombe to discuss details of such essentials as Press Releases etc.

Through 'Bert' Henery I had made contact with 'Gilly' Gillbanks, my Rear Gunner, now living near Keswick, had spoken on the telephone with my Second Pilot, 'Gibby' Gibson (Kings Lynn) and my Navigator 'Sammy' Walters (Southampton) both of whom had been traced through Directory Enquiries, after using old letters as a starting point.

The whereabouts of 'Connie' Constable (Wireless Operator/Air Gunner) were completely unknown. Was he even alive? I did not know. Then I remembered hearing, shortly after the war, that he worked for an insurance company. I ran their London Personnel Department, and was told that he had been employed by them at their Whitehaven Office, but had left many years before. I took a chance and telephoned the Whitehaven Branch of this company. Would you believe it? The Lady who answered the 'phone had worked in the office as a young girl and had just returned to take a part-time job. She remembered 'Connie' and was able to supply me with the telephone number of the firm where he worked as a departmental manager. I rang the number, ask for him, refrained from giving my name, and when I heard his well-remembered voice I said "'Conny', this is the Skipper, - watch out for those 109's!" There was a brief silence and then an explosive "Stan, is that you?!". The thirty-six year gap since we had last spoken disappeared in an instant.

Now contact had been made with everyone in the crew. They were enthusiastic to a man to go along with my plans, so all that was left was to tie up the loose ends and hope we should each live long enough to achieve our goal.

It would have been wonderful to return to base in a Halifax, but no such aircraft had survived the war in a flyable condition. Luckily, three brothers, who were members of the Yorkshire Aeroplane Club, owned a Piper Lance single-engine monoplane with six and a half seats, and I was able to negotiate with them for the loan of this machine, and their enthusiastic co-operation was quite remarkable.

It was agreed that the 'Northerners' - 'Gilly', 'Connie', 'Bert' and 'Stan' would fly down to Scampton in the Piper Lance on the 23rd July, and meet with the 'Southerners' - 'Gibby', 'Sammy' and 'Oggie', who would drive up to Lincolnshire from their respective homes.

The moment when the full crew came together again after all those years on the morning of the 23rd July 1981 at RAF Scampton was incredibly moving. Time seemed to stand still, and suddenly all the years between just fell away. The seven men standing alongside the plane, a complete Bomber Crew from the 1939-1945 war, with ages ranging from 59-73, were now 'young' men. 35 Squadron welcomed back seven airmen who had been posted 'missing' in July 1941. What a welcome it was - but that is another story.

I was awake very early on the 24th July 1981. Forty years before had been the most glorious summer morning without a cloud in the sky, very warm, and with a gentle breeze. Now it was the most atrocious day with very low cloud and driving rain. There was almost a gale blowing and we could expect a very bumpy ride. More like winter than summer.

Ground crew fussed around our little aircraft as the pre-flight checks were completed. I looked around the crowded cabin. It was a very proud moment for me. My crew were with me again, just like forty years before, and although some of them had not been in an aircraft since we were short down, not a trace of apprehension could I discern. Like me, they were to a man eager to be up and away on this unique flight which to all of us had become a pilgrimage to the memory of the thousands of Bomber Command airmen who never would make it back to their base.

There is only one runway at Scampton. The surface wind was from 330 degrees and we were taking off on Runway 05. An 80 degree crosswind. Seven men crammed into a six and a half seater light plane, the half seat intended to be for a small child. We had carefully calculated the weight and balance beforehand, but the surface wind and direction were not ours to dictate. The valiant Piper Lance lifted off and crabbed along above the runway, climbing to just below the dark and ominous cloudbase, which was below 600 feet.

We had been given special permission to use our old Halifax call-sign, and so we were 'Halifax, Lima 9512 'U' Uniform' (not 'U' Uncle as of old) but as you may imagine quite a stir was caused at those Control Towers receiving our call that day.

The turbulent flight from Scampton to Linton-on-Ouse took 55 minutes, and the weather continued to deteriorate, our approach being fully radar controlled. During the descent 'Oggie' suggested that we reported to Linton Tower that we had four wounded on board, - this would indeed have been the case if we had returned in 1941. So this was done, and acknowledged by the Controller, whose voice welcomed us home. We broke cloud at approximately 250 feet and touched down on Runway 28 with indescribable feelings of pride and gratitude at being able to complete our mission of forty years before.

We taxied around to the parking area and noticed that we were being guided in by extremely smart and efficient batoneers. One of the figures in a brilliant white coat seemed to be somewhat older than one would have expected, and to our delight and amazement turned out to be Sgt Alf Mitchell, one of the ground crew who cared for Halifax 'U' Uncle and who waved us off on the Scharnhorst raid. His first words to me were "Where the hell have you been for the last forty years?" It was wonderful to see him, and such a surprise - the first of many unexpected things to unfold for us on our arrival home.


Together again. The crew of L9512 TL-U before take off from Scampton in July 1981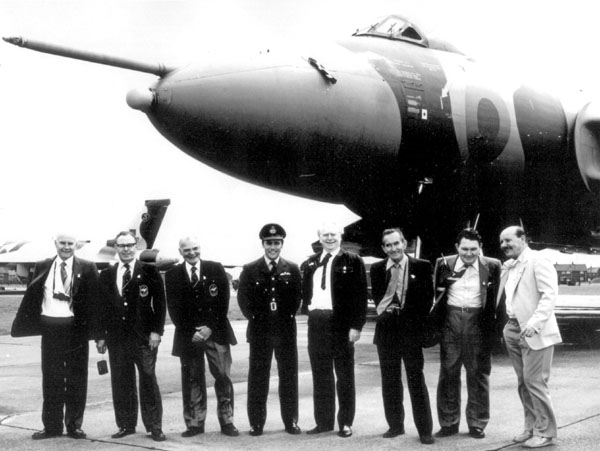 'Connie' Constable, 'Bert' Henery, 'Oggie' Ogden, S/Ldr Roger Dunsford, Stan Greaves, 'Gibby' Gibson, 'Gilly' Gillbanks, 'Sammy' Walters.
Photo: E Constable
We were officially welcomed by Group Captain Oakden (then Station Commander) and it was a proud privilege to introduce to him, individually, each member of my crew in turn. I shall never forget that moment.
We were transported to the Sergeants Mess for the official reception, and on parade outside the mess building were ATC Cadets, extremely smart and erect. They seemed pleased to be 'inspected' by seven elderly aviators, and I do not think they could have been more surprised if we had been visitors from another planet.
The Mess was crowded with Members, TV Interviewers, Cameramen and Newspaper Reporters. We had not expected anything quite like this, and it was a new and novel experience for us all.
Shortly afterwards Group Captain Oakden arrived in the Sgts Mess and made a short speech welcoming us back to Linton and congratulating us on completing our Mission. On the wall behind him was a green baize cover, and during his speech he provided us with the biggest surprise of all up to that moment when he unveiled a magnificent oil painting of Halifax 'U' Uncle, together with an engraved plaque commemorating the event. This painting had been specially commissioned in our honour by the Sergeants Mess, and this proud moment took our breath away. It was my privilege to acknowledge this honour on the crews behalf, and afterwards 'Bert' Henery surprised me with a personal presentation of a superb scale model of our Halifax Mk I standing on a polished mahogany base, with a suitably engraved brass plate. The Members of the Mess gave a Linton-on-Ouse tie to each of us, and this gesture was very much appreciated.
Next came television and newspaper interviews, after which we moved into another room where a magnificent luncheon had been provided for us and other members of the Station and Mess. Centrally placed was a beautifully decorated cake with a model Halifax on the top (yet another surprise), and subsequently a photograph was taken of seven hands on one knife, cutting the cake together. Yet another memory for us.
Time was passing all too quickly, and a mini bus with a young, smart and most attractive WAAF driver was waiting to take us on a tour of the Station, accompanied by Sergeant Bill Steel as a guide. Incidentally it was Bill Steel with whom I liaised over the last few months prior to our return to Linton, and his full co-operation and remarkable organising ability enabled everything to run so smoothly. We were all deeply indebted to him for his enthusiasm.
It was my personal wish before leaving that we should visit the dispersal hard standing from which our Scharnhorst adventure started. The minibus conveyed us to the far side of the airfield, and we walked over to the centre of the concrete circle, which had been the resting-place of 'U' Uncle between raids. Here she had been serviced and prepared for battle by Sergeant Alf Mitchell and his team, and it was here they would wait for us to return. We stood in silent prayer remembering all those aircrew comrades who had not returned and had made the supreme sacrifice in the air war against Nazi Germany. It was a very moving moment, and it seemed as though we all felt a 'presence' there. Some of you may have read stories of similar moving 'experiences' at World War II airfields - even those that are now disused or which may have been reclaimed as farmland. Suffice it to say that we all walked back to the minibus in silence, to find our pretty WAAF driver in tears.
Our last visit was to the 'Flights' where we spent a nostalgic and hilarious ten minutes drinking steaming hot mugs of tea made as it only can by the personnel occupying this bastion of the Royal Air Force.
The time for our departure from Linton came all too soon. We said our farewells, squeezed into the small aircraft, started the engine, and after receiving permission from the Tower we taxied along the line of 'Top Brass' and other personnel waiting to see us leave. I turned on to the runway having been given clearance, opened the throttle eased back on the control column, climbing into the increasingly murky overcast to return to Scampton for our final crew dispersal. Had it not been for the noise of the engine, it would have been a very silent aircraft.
By Stanley Greaves DFM
IN MEMORY

Wilfred C. 'Sammy' Walters died 2nd October 1982
Albert 'Bert' Henery died 25th September 1985
Alan 'Gilly' Gillbanks died 31st December 1994
Gordon 'Oggie' Ogden died 26th June 1995
Noel 'Gibby' Gibson died 5th June 1997
Stanley 'Stan' Greaves DFM died 30th April 2006
WE WILL REMEMBER THEM