Gneisenau
The German Battleship Gneisenau was built in Deutsche Werke, Kiel in Germany. Her keel was first laid down in February 1943 and construction commenced. In July 1934 construction was ceased to allow the original plans to be modified with new specifications. On 6th May 1935 the new keel was laid down and she was launched on December 8th 1936.

The German Battleship Gneisenau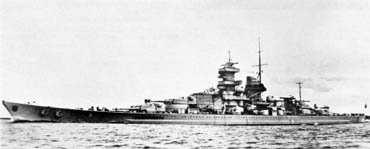 Gneisenau was named after Augsut Wilhelm Anton Graf Neidhart von Gneisenau. She was christened at her launch by the widow of Captain Julius Maerker who was commander of the German armoured cruiser, Gneisenau, who was lost with his ship when she was sunk during the Battle of the Falklands on December 8th 1914.
The Gneisenau was commissioned on 21st May 1938 and was placed under the Captaincy of Erich Förste, commencing sea trials and training until August when she was sent to the North Atlantic for battle training until November 1938.
Gneisenau had a maximum displacement of 37,303 tonnes (1943). Her overall length was 753 feet 9 inches (230 m) on completion and 770 feet 7 inches (235 m) after installation of a clipper stem in 1939. The max speed she was capable of travelling at was 30.7 knots and she had a maximum range of 6,200 nm at 19 knots. The maximum machinery output was 154,000 shp. Gneisenau also carried small aircraft onboard which took off by means of a catapult.
In 1939, the crew compliment was 1,669 comprised of 56 officers and 1,613 other ranks.
The armament of the Gneisenau consisted of nine main 28.3 cm (11.1") guns which were mounted in three triple turrets and a secondary armament comprising eight 15 cm (5.9") guns housed in twin turrets and four 15 cm (5.9") guns which were single mounted. She also carried fourteen 10.5 cm (4.13") anti-aircraft guns in seven twin mounts, sixteen 3.7 cm (1.46") anti-aircraft guns in eigh twin housings and sixteen 2 cm (0.79") anti-aircraft guns.
In October 1939 Gneisenau began operational duties as part of a fleet of German ships despatched to intercept sea trade between Britain and Scandinavia.
After the commissioning of the Scharnhorst in 1939, Gneisenau and Scharnhorst were sent south of Iceland to attack the Northern Patrols.
The two ships continued to work side by side, and by the end of March 1941 they were responsible for the sinking of 22 ships (all during Operation "Berlin" 22nd January - 22nd March 1941).
During an attack from the air by the RAF on 26/27 February 1942, Gneisenau was seriously damaged and was put out of action. In April 1942 she was sent to Gotenhaven (Gdynia) - then part of Germany but now in Poland - to be decommissioned and reconstructed. After the sinking of Scharnhorst in December 1943 reconstruction and conversion work was halted on Gneisenau.
In March 1945 Gneisenau was sunk as a blockade ship in Gotenhaven. She was broken up and scrapped between 1947 and 1951.