Two 10 Squadron aircraft crashed in the Hemnefjord area on the night of 30/31st March 1942. W1043 ZA-F flown by Squadron Leader Webster and W1044 ZA-D flown by Pilot Officer Blunden. Most of the aircraft taking part in the raid that night would have flown over this area on their way either to or from the target therefore many of the locals living there were disturbed by the noise of aircraft flying that night. 10 Squadron were flying in phase two of the operation, and each aircraft had a load of four 1,000 lb mines onboard.

Alf Jamtøy was a young man who lived on Jamøya in 1942 and can remember many aircraft flying over the area on the night of March 30th. He watched as they flew over Hemnefjord on their way to Fættenfjord. Later on he again heard the sound of aircraft flying and looked out of his window. He saw an aircraft coming from the direction of Åstfjord which was flying eratically and was losing height. As the aircraft flew above the small skerry called Sørfuglan there was a sudden explosion onboard after which the aircraft seemed to continue flying for a moment or so before crashing down hitting the South West tip of Sørfuglan. It's believed that the German AA guns at Hemnskjel were firing at the aircraft, but that it was already in grave trouble by this time.

The following morning, Alf's older brother, Kåre, and his father rowed over to Sørfuglan and found considerable amounts of aircraft debris in the sea and on Sørfuglan too.

People who lived on the islands Fugløy and Tynsøy remember hearing a great deal of shooting during the night and many aircraft flying overhead. Some also recall the sound as the aircraft exploded and remember finding aircraft debris and weckage and lots of dead fish in the water the following day.

It appears that debris and wreckage from this aircraft, and probably also from W1044 ZA-D which crashed nearby, was scattered over a wide area and also carried further afield by the currents in the fjords.

Later in the day on March 31st the weather grew stormy with high winds and heavy seas which would undoubtebly have spread the debris and wreckage to an even wider area.

Four days later, on April 4th, the body of an airman was found in the sea alongside the quay at Terningen, a small island where a lighthouse stands just off the coast from Hitra. Terningen is some 10 miles away from Sørfuglan.

Terningen Lighthouse and the quay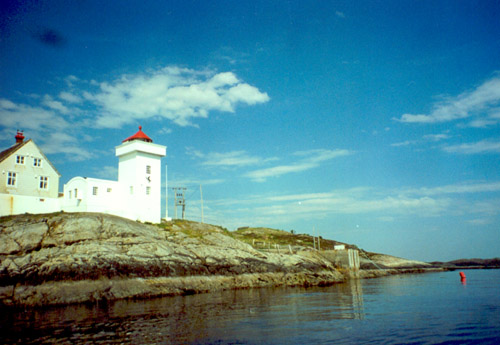 Photo: L Druce
Karoline Holte (now Utseth) was a young woman who lived on Terningen in 1942 and she can remember that the Germans stationed on the island found the body. The body was lifted from the sea onto the quayside where it was identified as being that of Squadron Leader Webster, the pilot from Halifax W1043 ZA-F. The following day the body of Squadron Leader Webster was taken away by boat.
On April 8th 1942, Squadron Leader Webster was buried at Trondheim Stavne Cemetery along with four airmen from 35 Squadron who had perished when their two Halifax aircraft had been shot down on the night of 30th March. They were Flight Sergeant Steinhauer from W1015 TL-P, Flight Sergeant Archibald, Sergeant Francis and Sergeant McLaren from R9496 TL-L.
The bodies of the rest of Squadron Leader Websters crew were never found and they are commemorated on the Runnymede Memorial, Surrey in England.
The three bodies of airmen recovered from the other 10 Squadron Halifax W1044 ZA-D lost this night, Pilot Officer Day, Sergeant May and Sergeant Richard were buried in the local cemetery at Heim on April 4th and after the war moved to Trondheim Stavne Cemetery.
Squadron Leader Fred Webster DFC
Pilot

Pilot Officer Samuel Leney - W/Op/Air Gunner

Sergeant Eric A Hall - 2nd Pilot

Photo: J Jenkins & P Hendry

Photo: W Hines & L Leney

Photo: B Hall
My special thanks to Morten Moe in Norway for his help in researching the loss of this aircraft.
In late May/early June 2005, Wynne Hines, sister of P/O Leney and David Hall, son of Sgt Eric Hall visited the area where this aircraft was lost. You can read about their visit here.