Samuel Robert Leney was born in Mitcham, Surrey, England on August 6th 1919 to Samuel George Leney and Winifred Annie Francis Cheeseman Leney who were Publicans at the Bucks Head in Mitcham and later at the Queens Head, Cricket Green, Mitcham. His father, Samuel George fought in the Boer war with the Sixth Dragoon Guards, Carabiniers.

Samuel was the Leney's eldest son, his brother, Leslie, joined the Royal Observers Corps, Seabourne division in 1940 for the duration of the war. His sister, Wynne, worked as a Counter Clerk and Telegraphist for the Post Office in Mitcham.

From 1930 to 1933, Samuel was a pupil at Western Road Central School where he was in the school football and cricket teams. He excelled at art, winning first prize in a painting competition, and in 1933 was awarded a certificate for an essay he wrote on the Suez Canal in a Royal Empire Society Competition.

Swift House Western Road School Cup Winners
Samuel Leney Back Row, Second Left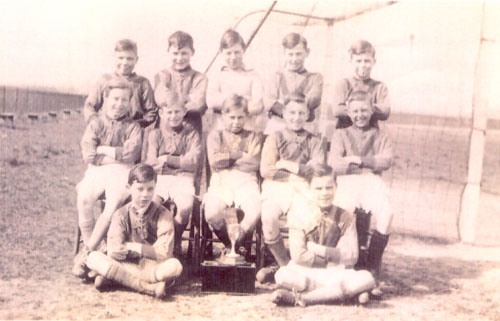 Photo: L Leney
After leaving school, he joined the Post Office as a Telegraph Messenger Boy at Mitcham and then worked for two years at the royal residence, Buckingham Palace, in London. In a competition at a miniature rifle range he won a trophy for being the best Messenger Boy shot. During his time at the Palace several historical events took place, Princess Marina of Greece married the Duke of Kent in November 1934. In January 1936, the King, George V, died and was ascended by his eldest son, Edward VIII who then abdicated in December 1936 to marry Mrs Wallis Simpson. His place as King was taken by his brother, George VI, whose coronation took place in May 1937.
Edward VIII, George V and George VI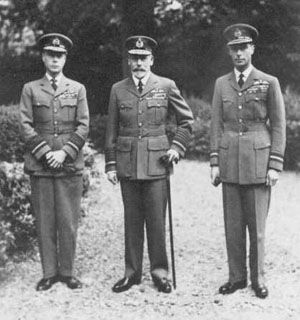 Photo: L Druce
After two years at Buckingham Palace, Samuel returned to Mitcham where he worked at the Post Office as a Counter Clerk and Telegraphist in the Post Offices at Mitcham and Croydon. While working at the Croydon Post Office he received one of the very last Post Bags to arrive from Berlin before the outbreak of war.
On 27th October 1939, Samuel enlisted with the Royal Air Force Volunteer Reserve at No.1 Depot, Uxbridge, as a Clerk/Teleprinter Operator, Aircraftman 2nd Class and was given the Service Number 905467. In November 1939 he was placed in No. 5 Recruits Training Pool at Finningley before being posted at the beginning of December to 1 Wing, No.1 Electrics and Wireless School at Cranwell. In January 1940 he remustered as a Teleprinter Operator at No.11 Group, Uxbridge, and was by now a Leading Aircraftman.
Samuel commenced training as an Air Gunner at No.8 Air Gunnery School in March 1941 at Evanton, Ross and Cromarty in Scotland. He was granted a commission as Pilot Officer on 23rd August 1941 and given the Service Number 104588.
In August 1941 he attended his operation training at 10 O.T.U, RAF Abingdon. After completion of O.T.U he was posted to 10 Squadron at RAF Leeming as an Air Gunner where he arrived on October 10th 1941.
In October 1941, 10 Squadron were to change from flying Whitley V's to the Halifax MkII's. Their first Halifax was delivered to Leeming on October 24th, and the following day Samuel Leney was on the first crew who flew to Linton-on-Ouse for the Heavy Conversion Course in the Halifax.
After completing the conversion course, Samuel went to Central Gunnery School at Castle Kennedy on a course before returning to 10 Squadron at Leeming to resume his duties.
Pilot Officer Leney (2nd Left) with three as yet unidentified airmen. If you know who they are please e-mail me at archieraf@yahoo.co.uk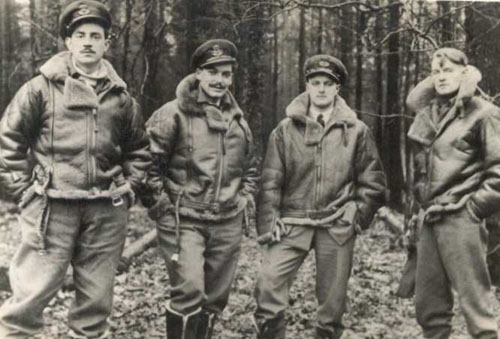 Photo: W Hines and L Leney
On the evening of Monday 30th March, 1942, Pilot Officer Leney was the Air Gunner onboard Halifax W1043 ZA-F flown by Squadron Leader Webster which took off from RAF Lossiemouth with nine other 10 Squadron Halifaxes. The target was the German Battleship Tirpitz, which was moored in Fættenfjord in Norway. The aircraft that he was onboard crashed in the Hemnefjord area not far from the target with the loss of all onboard. The body of Pilot Officer Samuel Leney was never recovered. He is commemorated on the Runnymede Memorial in Surrey.
My grateful thanks to Mr L Leney and Mrs W Hines, brother and sister of Pilot Officer Samuel Leney for their assistance with this page.