George Henry Steinhauer was born November 13th 1919 in Morse, Saskatchewan, Canada to John and Elizabeth Wunsch Steinhauer. His father was a grain buyer with the Western Grain Company in Morse.

The Steinhauer family originated in Germany and immigrated to Russia in the late 1800's to farm south east of Saraor on the banks of the River Volga. In 1905 the family decided to immigrate to Canada, settling in an area south of Morse, Saskatchewan where several of the family members took out homesteads.

George grew up on a 160 acre homestead near Morse with his parents, sister Martha and brothers Richard and Robert. Richard would later become a member of the Canadian Mounted Police while Robert was to serve as a Medic in the Canadian Army.


George (in uniform) with his parents and one of his brothers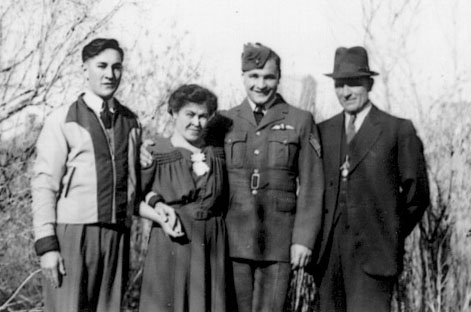 Photo: Steinhauer family
Educated at Morse Public School (1926-1932) and Morse High School until 1936, George enjoyed swimming and played hockey, softball and baseball. His hobbies were painting and photography.
Immediately after leaving school, George spent several months working at a local service station before taking a position in October 1936 with the Western Grain Company as 2nd Man. He left Western Grain Company in April 1938 and spent five months working for Pearson Brothers Contractors as a carpenter repairing elevators. From October 1938 until May 1939 he worked as an assistant to the Town Clerk in Morse. In May 1939 he applied to join the RCAF and his name was added to a waiting list. Meanwhile, he returned to work for Western Grain Company, again as 2nd Man, until March 1940.
In March 1940 George took a place on a Youth Training Programme in Airframe Mechanics which he completed in July 1940 and immediately applied to join the RCAF again. This time he was successful and was posted to No.2 Manning Depot in Brandon at the end of September. His training in the RCAF commenced at No.2 Initial Training School (ITW) in Regina on October 14th. On November 5th he was posted to No.5 Elementary Flying Training School (EFTS), Lethbridge, Alberta where he learnt to fly in Tiger moths and made his first solo flight on November 30th. Following this he was posted to No.3 Service Flying Training School in Calgary where he flew Avro Ansons and was awarded his Pilot 'wings' badge on April 4th 1941. Now a qualified Pilot, George would travel overseas to England to complete the final stage of training at an Operational Training Unit. He was posted to No.1 Temporary Manning Depot at Derbert, Nova Scotia and then to the RAF Trainees Pool at Halifax on May 8th where he waited until he was instructed to board a ship and sail to England.
On arrival in England, George was processed at No.3 Personnel Reception Centre (PRC) at Uxbridge and was posted to No. 19 Operational Training Unit (OTU) at Kinloss in Scotland arriving June 6th 1941. At 19 OTU George learnt the skills required for operational flying over enemy territory and to fly as part of a bomber crew. The training was done in two engined Whitley bombers.
After completing OT.U George was posted to 51 Squadron at Dishforth where he arrived on August 4th. He started flying as 2nd Pilot in Whitley bombers and flew his first operation as Captain on September 20th. The operations, flown mostly at night, were to targets such as Cologne, Dusseldorf, Mannheim, Brest, Boulogne, Hamburg, Stuttgart and Nuremberg. Returning from an operation to Nuremberg on October 12th he crash landed his Whitley near Mildenhall.
One month after joining 51 Squadron, George wrote a letter to his good friend, Elmer Pollock, back in his hometown of Morse, describing operational flying:
"I've been over enemy territory as a second pilot nearly enough times to qualify as 'Captain', and if the weather would only be decent for a while I should be a Skipper soon. On one raid the Observer even let me drop the bombs - (you certainly can't think about the Ten Commandments in this racket).
With the numbers employed we are bound to lose kites* (*airforce slang for aircraft) quite often, so it takes quite good nerves if some of your pals don't get back for breakfast. It gives you a great feeling though to be able to step out of the kite on friendly territory when you fly back full of holes. A lot of the planes shot down are high enough to give most or all the crew time to bale out and unfortunately become prisoners of war. Sometimes though you see one get hit with heavy flak (anti aircraft shells) and it explodes in mid-air with a full bomb load on. The Jerry's certainly have wonderful searchlights and guns. If you get caught in a cone it's bright as day and then they shoot up everything but the Iron Cross. If you are high enough to be above the light flak it looks like a grand fire works display, but the heavy stuff rocks the kite when it explodes and rains shrapnel. As long as the heavy stuff is far enough away so that you can't smell the cordite it's not too bad. The gun flashes below look like spears of light switched on and then quickly off."
On October 24th, George was posted from 51 Squadron to 35 Squadron at Linton-on-Ouse. 35 Squadron were operating the four engined Halifax bombers, and before flying on operations George had to go on a conversion course to convert from Whitley to Halifax. He attended 28 Conversion Flight at Leconfield on November 15th, returning to 35 Squadron on December 19th.
George flew his first operation in a Halifax on January 6th 1942 to bomb Port Militaire at Brest and was Captain of the aircraft. His second operation with the squadron was to the same target a few nights later. On the night of January 10th/11th Wilhelmshaven was the target and the trip was not without incident. Taking off from Linton-on-Ouse at 1759, George and crew (Sgt Pack as 2nd Pilot, Sgt Goodrum as Navigator, Sgt Meade as W/Op, Sgt Campbell as 2nd W/Op, Sgt Cohen as rear gunner and Sgt Mitchell as Flight Engineer) attacked the Jever area of the city at 2029 hrs from 19,000 feet. After releasing the bombs the hydraulic system in the aircraft went u/s and both gun turrets froze up. With an air temperature of minus 35 degrees Sgt Cohen, the rear gunner, had a problem when his oxygen failed causing him to pass out for ten minutes. The Flight Engineer, Sgt Mitchell, was despatched to give first aid to Sgt Cohen, however, he forgot to take his portable oxygen supply and thus he too passed out. George put the aircraft into a rapid dive to 12,000 feet, his quick thinking in getting the aircraft to a lower altitude allowed both men to regain consciousness. Unable to land back at Linton-on-Ouse due to low cloud, the aircraft landed at Mildenhall at 0002 hrs hitting a mobile flood light on landing which removed half of the rudder and caused slight damage to the starboard flap!
On January 15th, George and crew were detailed along with three other 35 Squadron Halifaxes on an operation to bomb the main Railway Station at Hamburg. This time the navigator, Sgt Goodrum, passed out - possibly due to lack of oxygen. Without the navigator to assist in locating the target they dropped their bombs on what they believed to be Kiel and returned safely to base.
George and his crew were one of four Halifaxes to take off from Linton-on-Ouse on February 12th on a daylight operation (codename: Operation Fuller) to attack a squadron of German ships, Scharnhorst, Gneisenau and Prinz Eugen, believed to be sailing up the English Channel. Visibility was extremely poor with cloud down to 400 feet and the 35 Squadron aircraft returned to base with their bombs still onboard.
35 Squadron provided a flight of three Halifaxes to give a flying demonstration over York in aid of Warships Week on February 16th. George and his crew were selected as one of the three crews who took part.
The rest of February was quiet as far as operations went. 35 Squadron were screened from flying operations due to special modifications being made on their aircraft. The crews spent time doing flying exercises and testing the aircraft which would have provided a welcome break from flying over occupied territory for them.
Operations were back on again in March, and after having flown with a variety of changes in the crew, George now seemed to have a regular crew: P/O Peter Brown - 2nd Pilot, Sgt Lewis Goodrum - Navigator, Sgt Eric Meade - 1st W/Op/AG, Sgt Douglas Campbell - 2nd W/Op/AG, Sgt Maurice Cowan/Cohen - Rear Gunner, Sgt Hamish Dunlop - Flight Engineer. This crew took off on the night of March 8th on an operation to Essen in Halifax W1015 TL-P which had been delivered to the squadron on February 14th. Bad weather at Linton-on-Ouse meant they landed at Stanton Harcourt on their return as did the majority of the other aircraft from the squadron. On the night of March 13th, George and crew flew on an operation to Cologne, this time landing at Mildenhall on their return.
On the morning of March 25th their Majesties, the King and Queen, arrived at Linton-on-Ouse and inspected a Halifax Mk II loaded with 4,000 lb bombs. The squadron personnel were paraded in working dress in front of 'C' Hangar where the King and Queen spoke with several of the men, George Steinhauer being one of the ones they stopped to speak to.
Two days later, a detail of 13 aircraft and crews and around 130 ground personnel from the squadron were instructed to move to an advanced base at Kinloss in Moray, Scotland. It was from here, on the night of March 30th, that George and his crew flew their final operation. The target was the German Battleship, Tirpitz, moored in Fættenfjord, Norway.
35 Squadron lost three aircraft with the loss of all onboard on this operation. One of these was Halifax W1015 TL-P flown by George Steinhauer. The aircraft was shot down by a German AA boat.
George Steinhauer is buried in Trondheim (Stavne) Cemetery as are P/O Brown, Sgt Meade and Sgt Cohen from his crew. The rest of the crew were never found and they are commemorated on the Runnymede Memorial, Surrey, England.
George Steinhauer is also commemorated in his beloved Canada where a lake in Saskatchewan was named Lake Steinhauer after him. This was thanks to an initiative instigated by the government of the province of Saskatchewan who named lakes, bays, island and other geological features after the 3000 + men and women from Saskatchewan who gave their lives during their service in the Canadian armed forces during WWII.
My grateful thanks to the relatives of George Steinhauer for assisting me with information and photographs for this page. I would also like to thank Floyd Williston in Canada for his assistance and support.