Wellington L7775 from 20 OTU

Wellington IA L7775 took off from Lossiemouth on 24th October 1940 on a night navigation exercise routing Base - Brechin - Kinnaird Head - Inverness - Base. Crashed at approximately 2100 hrs into Bruach Mhor on Beinn a' Bhuird. It is understood that the pilot, P/O D V Gilmour mistook the snow covered mountain for cloud. Five of the seven men onboard survived the crash, of the five, three were to lose their lives later in the war.
| | |
| --- | --- |
| Photos: | L Druce |
| | |
The two airmen who lost their lives in the crash were:
Pilot Officer Herbert Martin COOMBS (84954) RAFVR, Pilot, age 28, son of Carey Franklin and Nina May Coombs of Westbury-on-Trym, Bristol who is buried in Dyce Old Churchyard grave 9.
Sergeant Frank HUTSON (975183) RAVR, W/Op A/G under training, who is buried in Sheffield, Crookes Cemetery, section G grave 5183.
Those who were injured but survived were:
Pilot Officer Douglas Veale GILMOUR RAF mid (36240) who was later lost without trace on 16th December 1941 during a transport flight between England and Gibralter in 24 Squadron Hudson III V9115 aged 26 after completing at least 36 operations, 35 of these with Bomber Command. Son of Norman Hamilton Gilmour and of Edith Blanche Gilmour (nee Veale), of Epsom, Auckland, New Zealand he is commemorated on Panel 30 of the Runnymede Memorial in Surrey.
Sergeant A W MILROY
Sergeant Kenneth Winchcome BORDYCOTT (139927) RAFVR, later lost on an operation to bomb Plzen in Lancaster I W4854 GT- from 156 Squadron. At the time of his death he had also already completed a tour of operations with 150 Squadron, was a Pilot Officer (Nav) and had been awarded a DFC and DFM. The Lancaster crashed at Brimont (Marne) 10 km NNW of Reims, France on 16/17 April 1943 with the loss of all onboard. He is buried with the rest of his crew in the churchyard at Brimont in France and was the son of Frederick William and Countciletta Bordycott, of Shirley, Southampton.
Sergeant George 'Ron' LYON from Moston, Manchester.
Sergeant John Adam SPARKS (970251) RAFVR, later lost on an operation with 218 Squadron to lay mines in the entrance to Kiel Harbour. Stirling I BF319 HA-C crashed at Langwedel, 17km SW of Kiel with the loss of all onboard. Originally buried at Neumünster, the remains have since been transferred to Hamburg Cemetery, Ohlsdorf. At the time of his death he had reached the rank of Flight Sergeant and was an Air Gunner. Son of Alexander John and Elizabeth Ross Sparks, of Aberdeen; husband of Audley Pelham Sparks, of Aberdeen.
In the late spring/early summer of 1986, a substantial amount of the wreckage was removed from the mountain destined for the South Yorkshire Air Museum.

| | | |
| --- | --- | --- |
| Wreckage still evident at the | crash site. | Photos: L Druce |
| | | |
I visited the crashsite in mid June 2005 with James and Dan and found evidence of wreckage still littered around the general area of the crash site together with evidence of the removal of some of the more substantial pieces.

Be prepared. Camped at same altitude as crashsite - this is mid June in Scotland! Photo L Druce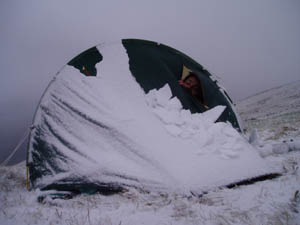 Sources:
For Your Tomorrow Vol 1 - A record of New Zealanders who have died while serving with the RNZAF and Allied Air Services since 1915 by Errol W Martyn
Bomber Command Losses Vols 3, 4 & 7 - W R Chorley
CWGC website