On April 1st 2006, I received an e-mail via this website from Philip Kammer. He explained that in 1973 he had visited the Oxford crash site on Beinn a' Bhuird, and while taking a well earned seat on a rock nearby his foot had dislodged a small metal object from the gravel top soil. On closer inspection he discovered that it was the remains of a gold wristwatch. It was minus the strap, had no glass left, broken hands and almost no trace left of the numerals but was clearly a watch. The back plate was gold and had a very clear inscription engraved on it which read "Presented to F/Sgt Pilot J Vella by the workers of 22 MU RAF Station Silloth Cumbria, 24th December 1942".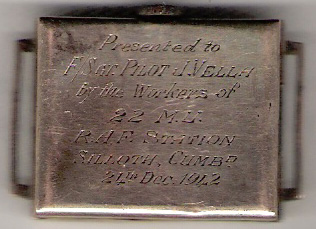 Philips attempts at the time to trace the family of the airman through the RAF proved unsuccessful, and after a time the watch was placed in a drawer where it lay forgotten about until Philip rediscovered it during a clearout in 2006. This time, with the aid of the Internet, Philip found further information about the crash and the owner of the watch via this website and contacted me to ask if I could assist him in returning it to the Vella family.
Reading the mail from Philip made the hairs on my arms stand on end. During my research into the loss of PH404 and crew I had received information in August 2005 via Mark Haycock recounting a story he had been told about Jan Vella. He was told that when Jan Vella had been stationed at 22 Maintenance Unit at RAF Silloth test flying aircraft that he was a very popular airman. So much so, that when the time came for him to move on for his next posting, the civilian maintenance workers clubbed together and bought a watch to present to him as a parting gift. Interesting information to have received at the time giving an insight into the kind of man Jan Vella was, but to have received an e-mail out of the blue eight months later from someone claiming to have found the actual watch.....well, that was quite remarkable.
I telephoned Philip immediately and told him the amazing story behind the watch and promised to do all that I could to assist him in returning it to the family of Jan Vella. After some thought about how best to proceed with locating relatives of Jan Vella I decided to enlist the help of Lt Col Arnost Polak, Secretary of The Free Czechoslovakian Air Force Association, and someone as a veteran of 311 Squadron who had known Jan Vella personally. With his contacts both here in the UK and in the Czech Republic I felt sure if anyone could find relatives of Jan Vella it would be Arnost. How right I was! Within a matter of weeks, Arnost was back in contact with me to say that he had located Jan Vellas daughter, Blazena Husakova-Vellova, who was living in Prague.

| | | |
| --- | --- | --- |
| These images © via Sandy Reid & Linzee Druce | | |
| | | |
Arnost contacted S/Ldr Sandy Reid, Chairman of Aberdeen & North East Wing of the Air Training Corps. Sandy had been instrumental in the organising of the memorial on Beinn a' Bhuird at the Oxford crash site in 2005. Together, they started making plans for returning the watch to Jan Vellas daughter in Prague.
It was during this period that we discovered that the DFC awarded to Jan Vella and sent to his family after his death, had been stolen in a burglary during the occupation of Czechoslovakia. Sandy and Arnost put forward a special case to the RAF requesting a replacement to present to Jan Vellas daughter which was successful.
Over the following months, Sandy and Arnost planned and organised busily and finally we received word that the watch and the DFC would be returned to the Vella family on 10th October 2006 at the British Embassy in Prague with myself, Sandy, Arnost and Philip in attendance. With assistance from Pavel Vancata, a fellow researcher in Prague, we would also visit Jan Vellas home town of Kladno as guests of the Mayor during our trip. Details of the trip can be read on 'Returning the Watch' page.